March 3, 2023
UKSRC Participates in E-Day 2023
Kelly Pennell, Director of the University of Kentucky Superfund Research Center (UKSRC), and Professor of Civil Engineering, along with Angela Gutierrez, UKSRC liaison, and Elena Moseley, a high school student enrolled in the Math Technology Science Center (MTSC) at Paul Laurence Dunbar High School in Lexington who works in Pennell Research Group, represented UKSRC at the University of Kentucky College of Engineering's annual open house, E-Day on Saturday, February 25, 2023.  
E-Day is traditionally held at the end of Engineers' Week in February in honor of George Washington's birthday on February 22.  George Washington was an engineer who surveyed, invented tools for his farm and supported the advancement of engineers. E-Day was first held in 1921 at the University and has become a tradition to celebrate science, technology, engineering and mathematics (STEM) education and it grows stronger every year. This year E-Day attracted nearly 4,000 community members to the University of Kentucky.
UKSRC hosted exhibits where kids of all ages, and their guardians, were able to learn how they work point-of-use water filters. Point-of-use filters are certain filtration devices that are used in homes and other settings to filter water right before consumption. Some examples consist of water pitcher, refrigerator, faucet-mounted, and under-sink filters.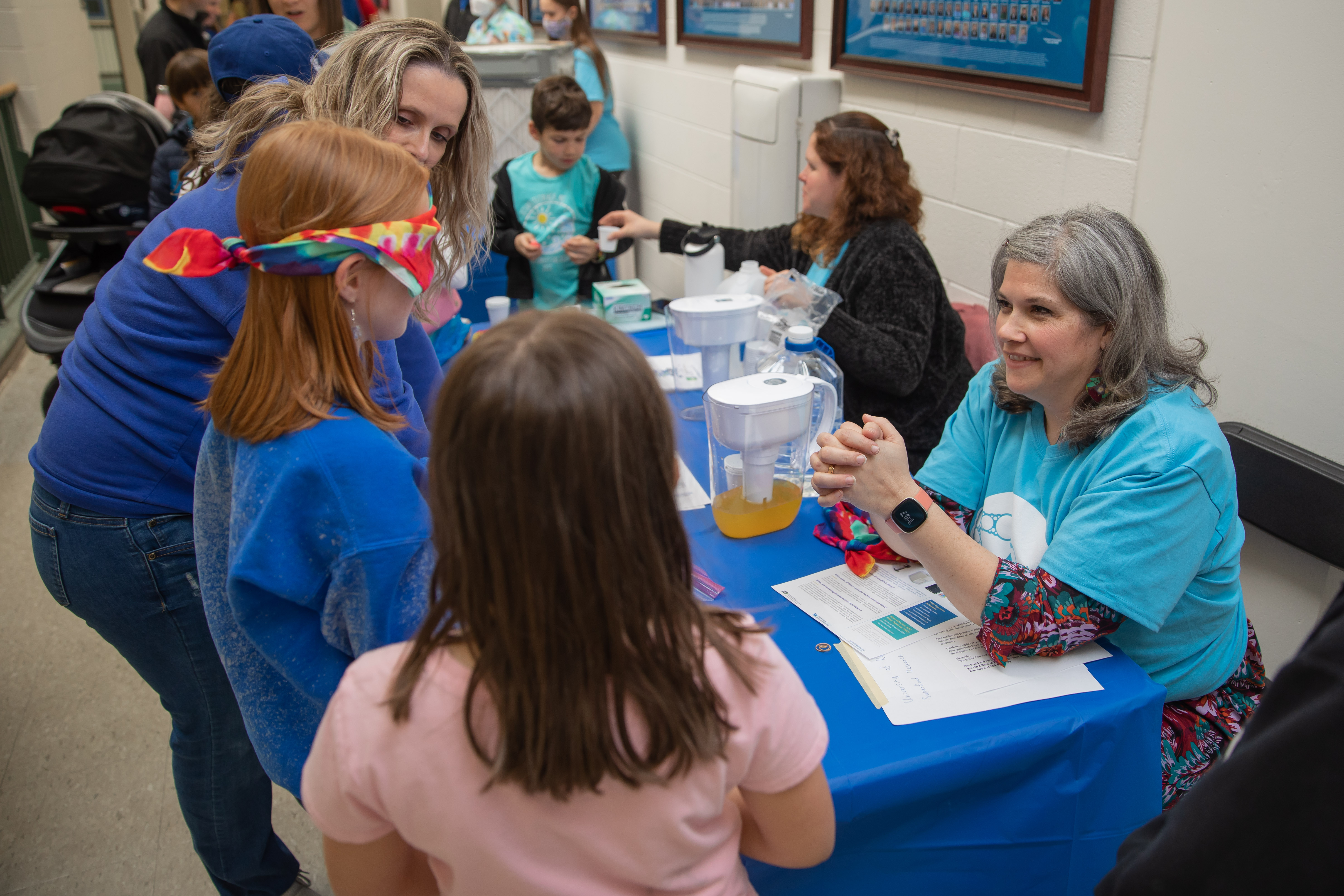 Photo taken by UK College of Engineering Eric Sanders: Dr. Kelly Pennell, UKSRC Director, and Dr. Angela Gutierrez (UKSRC liaison), conduct a blind taste-test with E-day attendees to demonstrate what point-of-use water filters can and cannot do. UKSRC also partnered with the Kentucky Department of Environmental Protection on an exhibit about air quality. Elena Moseley built a Corsi-Rosenthal box to demonstrate how a "build-it-yourself" air filter can be used to remove particulates (and aerosols) from indoor air. The Corsi-Rosenthal box was designed during the COVID-19 pandemic with the goal of reducing the levels of airborne viral particles in indoor settings. You can visit https://cleanaircrew.org/box-fan-filters/ for information on how to build your own.
Photo taken by E-Day Attendee: UKSRC and the KY Department of Environmental Health at the air-filter exhibit. From left to right: Walker Reed (KDEP), Amy Tempus-Doom (KDEP), Elena Mosely (Pennell Lab Member), Dr. Kelly Pennell (UKSRC Director), and Dr. Angela Gutierrez (UKSRC liaison)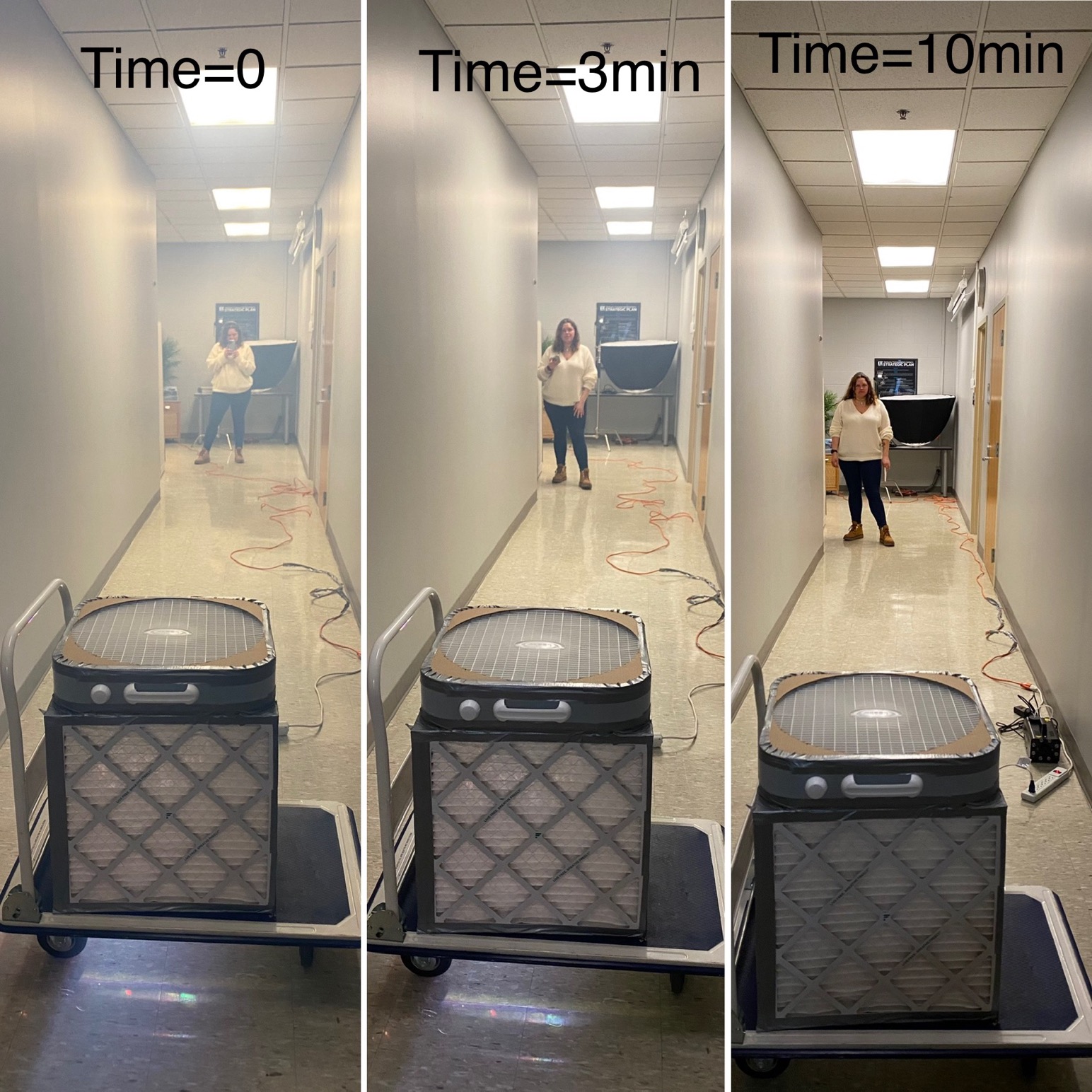 Photo taken by Kelly Pennell: UKSRC demonstrates how a Corsi-Rosenthal (C-R) box helps remove particulates from air using a smoke machine. At t=0 the room is filled with smoke and the C-R box is turned on. After 10 minutes of the C-R box running, the smoke in the room has completely been cleared and filtered by the C-R box.