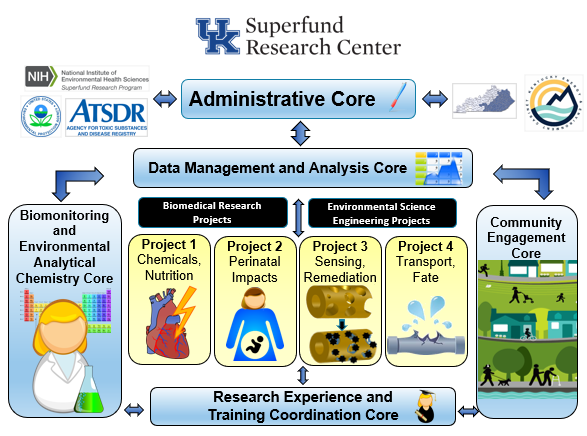 Using a concerted, well-integrated, multi-disciplinary approach, the University of Kentucky Superfund Research Center (UKSRC) tackles three aims to address
major environmental challenges in the form of halogenated organic pollutants:
Specific Aim 1: To develop novel integrative biomedical research approaches to reduce the effects of halogenated organic compounds (e.g. PCBs, PCE, TCE, and PFAS).

Specific Aim 2: To develop environmental engineering and science solutions to reduce exposure risks associated with halogenated organic compounds (e.g. PCBs, PCE, TCE, and PFAS).

Specific Aim 3: To foster forward-looking partnerships and training across projects and cores as well as externally through industry, policy makers, and other translational pathways.
By addressing these aims, UKSRC addresses all four National Institute of Environmental Health Sciences (NIEHS) Superfund Research Program (SRP) mandates: i.e., to develop, a) advanced techniques for the detection, assessment and evaluation of hazardous substances; b) methods to assess the risks to human health posed by these substances; c) methods and technologies to detect hazardous substances in the environment and d) basic biological, chemical and physical methods to reduce the amount and toxicity of hazardous substances.
UKSRC synthesizes and integrates findings from all four projects by strategic use of five key core components: Biomonitoring and Environmental Analytical Chemistry Core (BEACC), Data Management and Analysis Core (DMAC), Community Engagement Core (CEC), Research Experience and Training Coordination Core (RETCC) and the Administrative Core. The structure of the center allows for greater awareness of the effect and scope of hazardous substances and promotes the development of innovative solutions to mitigate these problems from both biomedical and engineering perspectives.